Recipe: Vegan, Oil-Free Spring Roll Wraps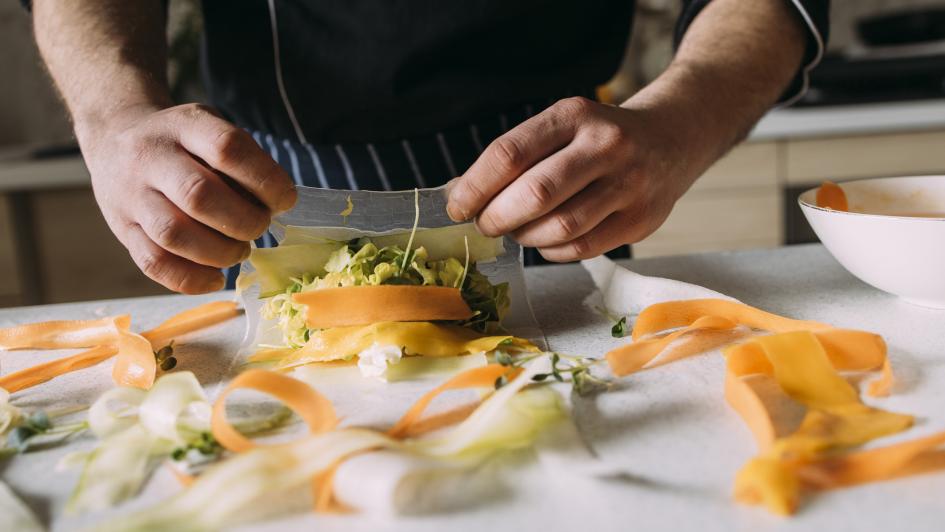 Vegan- Oil Free Delicious Spring Roll Wraps
Ingredients
1 organic cucumber
1 large organic carrot
1 bunch of organic mint 
1 bunch or organic cilantro
1 box of vermicelli rice noodles
3 tbsp. of soy sauce or tamari
1.5 tablespoon or 1 head of organic ginger
3 cloves of organic garlic
1 package of broccoli sprouts
1 package of organic romaine or butternut lettuce
1 box of Pumfu or tofu 
1 package of rice paper wraps
Peanut Sauce
1/3 cup unsalted peanut butter
2 tbsp coconut aminos
1 squeezed lime
1 tbsp honey
½ tsp grated or powdered ginger
½ tsp garlic powder or 1 clove of garlic
4 tbsp water
Dash of cayenne
1 tsp sesame seeds
Instructions
Wash all veggies and greens thoroughly.
Grate ginger and garlic. Add soy sauce or tamari and mix well.
Cut Pumfu or tofu into neat strips. Pour ginger/garlic and tamari mixture over top. Make sure all Pumfu is coated. Let marinate for 10 min.
While Pumfu is marinating, bring 4 cups of water to a boil and place vermicelli rice noodles. This should take about 3 minutes or so for noodles to soften, which then should be strained and set aside.
With a vegetable peeler, make ribbons by peeling the entire carrot and cucumber. Set these aside for placing in wraps when ready.
Set out cilantro, mint, lettuce, and broccoli sprouts.
Lay marinated Pumfu on a baking sheet, pouring marinade on top, and place in the oven at 350 for about 10 min.
When Pumfu is complete, remove from oven and set aside.
You now have all of your individual ingredients for your spring roll wraps!
Place warm, purified water in a plate.
Get a large, separate plate for rolling wraps.
Dip rice paper wrap into warm water briefly. Lay on second plate. Begin carefully placing each item, as neatly as possible, into the rice paper. As you do this, the rice paper will continue to soften. When done placing ingredients, carefully roll wrap (this part takes some practice!). I have found it more helpful to lay the flatter items down first, and the bulkier items on top.
You now have a delicious spring roll wrap!
For Peanut Sauce- combine all ingredients except sesame seeds in blender. Taste when blended. If too thick add water- 1 tsp at a time and re-blend. More of any ingredient can be added if flavors are not balanced upon tasting. Add sesame seeds on top as garnishment. Enjoy!
Recipe by Alexandria Ramtahal