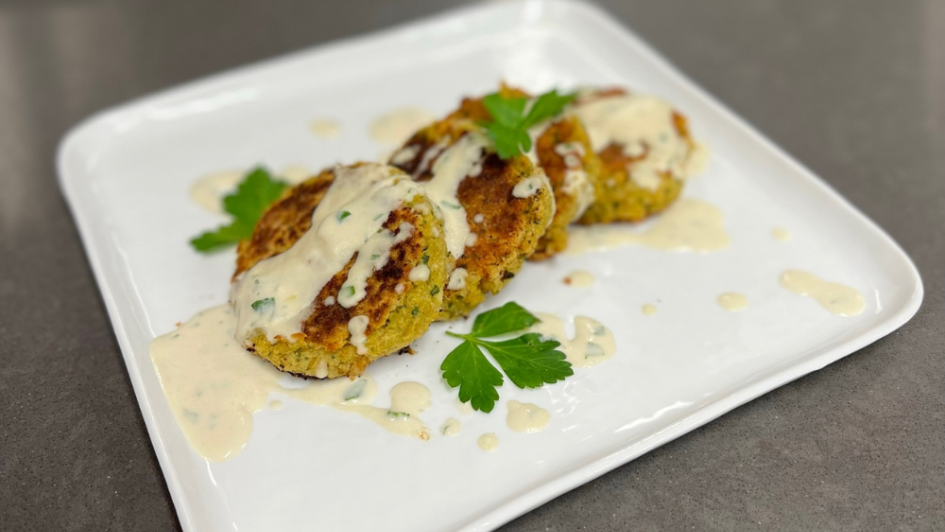 This twist on classic falafel will not leave you disappointed. Loaded with fresh herbs and spices, along with sweet potato and millet, it's not only good for your heart, but also your mind, and soul!
Prep Time: 15 minutes | Cook Time: 25 minutes | Total Time: 40 minutes
Makes 4-6 servings
Ingredients
1 (15 ounce) can garbanzo beans, drained and rinsed*
1 cup mashed cooked sweet potato (about 1 medium)
½ cup chopped red onion
2 cloves garlic quartered
¼ cup chopped flat leaf parsley
¼ cup chopped cilantro
1 teaspoon ground coriander
1 teaspoon kosher salt
½ teaspoon ground cumin
¼ teaspoon ground black pepper
¼ teaspoon cayenne (optional)
1 cup cooked millet at room temperature
1-2 tablespoons chickpea flour*
Grapeseed oil for frying*
Instructions
Place the garbanzo beans, sweet potato, onion, garlic, parsley, cilantro, coriander, salt, cumin, black pepper and cayenne (if using) into the base of a food processor. Alternate between pulsing and blending, stopping to scrape down the sides of the bowl occasionally, until all of the ingredients in the mixture are uniform in size, but still slightly grainy in texture.
Transfer the mixture to a mixing bowl and gently fold in the cooked millet.
Roll a small amount of the falafel mixture into a 1 – 2-inch sized patty with your hands. It should hold together nicely and not fall apart. (If it seems too wet, sprinkle the mixture with a small amount of chickpea flour, no more than a tablespoon at a time, and fold it in.) Repeat the shaping process with the rest of the falafel mixture and place the uncooked falafel on a large plate or baking sheet until ready to cook.
To Pan-Fry (For Crispy Falafel)
Heat a large skillet over medium-high heat. Pour 2-3 tablespoons of oil in the skillet and swirl to coat. Place the falafel patties in the skillet and cook for 2-3 minutes on each side, until crispy and browned. Transfer to a paper towel-lined plate to absorb the excess oil and sprinkle with coarse salt, if desired.
To Bake (For Not-So-Crispy Falafel)
Preheat the oven to 400ºF and line with parchment paper. Mist paper with oil, or use a pastry brush to brush a little oil where you will be placing your falafel. Place the falafel onto the baking sheet and mist the tops with additional oil; bake for about 25 minutes, flipping halfway through cooking time, or until golden brown on the outside.
Notes:
If you want a firmer texture, use dried garbanzo beans instead of canned. To do this, take 1 cup of dried garbanzo beans and soak in water overnight (up to 24 hours). The beans should absorb enough water to be soft. Once cooked, they will provide a firmer, less mushy texture to the falafel.
If you do not have chickpea flour, any flour will work. Just keep in mind the flavor it might impart on the falafel.
Any high heat oil will work. Refined coconut oil, safflower oil, or sunflower oil are good alternatives.
Recipe adapted by Lieka Suzumara, RD from Oh My Veggies Blog at https://ohmyveggies.com/sweet-potato-and-millet-falafel/, author Meg van der Kruik, 2/15/2021, for Bastyr University Therapeutic Cooking 2, 2022.